Slingshot Role-playing game, referred to as Slingshot RPG game for short, is a type of RPG game. Typical of RPG games, players take the role of a character in a realistic or fantasy setting. The difference with a Slingshot RPG is the way battles are played out, with players having to click and drag to attack or defend. The success of this depends on certain parameters set by the game. Some people may be unaware that they have even played a Slingshot RPG before or even know what this genre is, however there is a massively popular game series within this genre that you may have heard of and that is Angry Birds. So today we are going to recommend four super fun Slingshot RPG mobile games for all players. If you are an avid fan of RPG games, then you must not miss these five games.
Smashing Four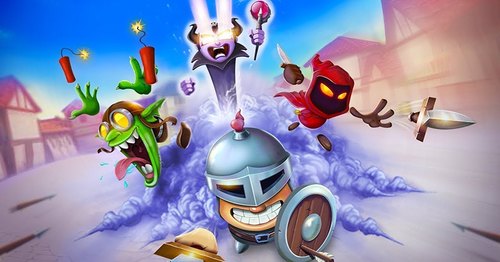 This is a turn-based PvP battle game. Graphically Smashing Four has a simple cartoon art style. The basic gameplay elements involve players forming a team of 4 heroes to participate in battle to fight against other players from all over the world.
The rules of the game are also very simple. At the beginning of the game, your team will be randomly assigned to a formation by the game, and all you have to do is to manipulate a hero to fight. The fighting method is similar to Pool and Snooker. The hero which has been shot by the player attacks the opponent. The attributes, skills, and various obstacles on the field calculate the damage of this attack. Once a player has beaten the other teams' heroes, they are the winner.
With each victory, players will win crystal balls, hero cards, gold coins and trophies. The higher the level of the arena, the higher the reward. There is also a trophy system in the game which is used to show the player's progress. The number of trophies a player wins or loses depends on the number of trophies held by the opponent. If you defeat a similar opponent, you will get 30 trophies; if you defeat an opponent with more trophies than your own, you will get more than 30 trophies; and if you defeat an opponent who has fewer trophies than your own, you will get less than 30 trophies. So if you are a lover of casual battle Slingshot RPG games, then this game is worth giving a try.
Rumble Stars Soccer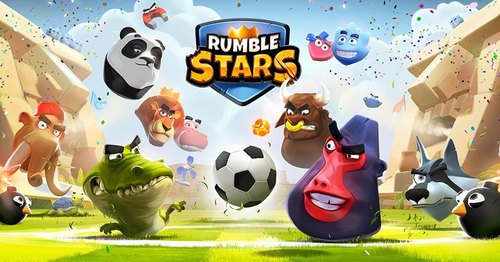 This is a competitive Soccer mobile game, published and developed by Frogmind , with various animal characters as the players. In Rumble Stars Soccer, players control different animals to shoot or pass the ball.
This is another cartoon style game but the gameplay is a real-time PVP Soccer match. Players will choose five different characters to play in the game. One being a goalkeeper and the remaining four are the outfield players. The gameplay is similar to Battle Royal War, that is, the football is located on the field, and both sides need to launch players to grab the ball, intercept, and shoot. Each player has theor own HP and skills. Once the character's HP has dropped to zero they will be taken off the field.
The game tests both your reflexes and quick thinking ability. If you don't understand the traits of each character, or can't judge what is beneficial to the situation, then the opponent may soon be able to switch from defense to offense, breaking through your defense and will score a goal. So if you are a Slingshot RPG gamer who implements strategy, then you must try this game.
Hyper Heroes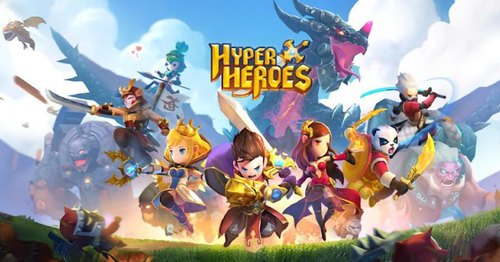 This is an RPG team battle game. In this game, players must hire a team of heroes and use their talents to defeat hordes of enemies. You can also join the multiplayer mode to have friends fight the enemy together.
Once again relying on a cartoon art style, the backgrounds to each level however have a more realistic style to them. The gameplay is very simple. Players collect and train different heroes to form an adventure team. Each hero has a different Class. Players need to arrange the team's position according to the characteristics of each hero to challenge the BOSS from level to level. The game also has a multiplayer mode, join your friends guild to unite against waves of enemies, and cooperate in an epic alliance!
The most important thing is that the gameplay is very simple, you only need one finger to play, so if you like this kind of game, you must try it.
Bounzy!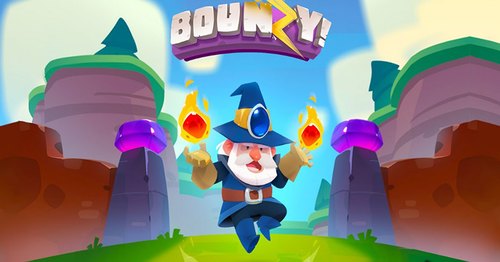 This is a casual defense RPG game developed by Gram Games. The graphics again have a simplistic cartoon art style. In the game, the player acts as a mage guarding the town. Monsters are constantly coming from outside the town looking to get in. You need to use your spells to shoot fireballs to attack and destroy the monsters. After destroying the monsters, you will get a treasure chest. Treasure chests can give you gold coins and crystals which can be used to upgrade your skills making it easier to guard the town.
The gameplay is very simple. The magician you play will use multiple magic spells and of course you use these spells to lower the monsters HP to zero.Players only need to make sure that they completely defeat them before they touch you.
Every time you repel an attack, you get a treasure chest. Destroy all enemies to find the key to the treasure chest and unlock priceless diamonds and gold. You can use these diamonds and gold to improve your strength and skills. The stronger your magical power and the stronger your defenses, the more likely you are to win. If you are a player who likes defensive Slingshot RPG mobile games, then you must play this game.