Sports games are one of the longest running genres in the history of games. The electronic game Pong we know well can be regarded as the first table tennis video game. Nowadays, almost all sports you can imagine have video game versions for you to play. For players who like a certain sport but can't play it professionally, games can be a good substitute. Today we will discuss some of the most popular sports mobile games.
Mini Football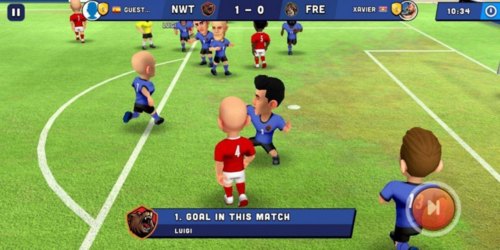 Like its name, this game is very mini in every aspect. Miniature players, football and of course a miniature field to play on. Matches only last around 4 minutes which is perfect for the mobile style pick up and play gameplay. Even though it is a football game, it's less competitive than you might think. Players have a lower success rate of passing and receiving the ball when getting close to the 16 yard box. Midfielders have an easier time of sprinting from one end of the pitch to the other but that still doesn't make it easier to score. Of course, as an online game, each match feels different as you play against different opponents each time. Players can choose the formation that suits them according to their team. In terms of players, in addition to improving the attributes of existing players, you can also get new players in the store, and they may be more powerful than your existing players.
Madden NFL 22 Mobile Football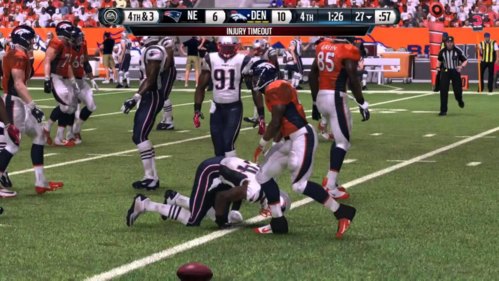 Is watching NFL live still not enough for you? Want to be a part of the team and help lead them to victory? All this will be realized in Madden NFL's latest series, Madden NFL 22 Mobile. The graphics of this game are very realistic for a mobile game. The player's body movements are natural, the impact is fierce, and the feeling is very immersive. In terms of gameplay, for players who are not familiar, the developer has designed in depth tutorial levels to help you master the gameplay step by step from simple movement, passing and receiving, to tactical execution, and how to score a touchdown. After that, you will officially start your journey. Players can collect resources in various competitions and upgrade their players. On the other hand, you can also acquire new players in the journey mode, have the opportunity to play side by side with your idol, and even directly control him to win the match. What are you waiting for? Download the game quickly and build your own dream team!
Madden NFL 22 Mobile Football
Bowling Crew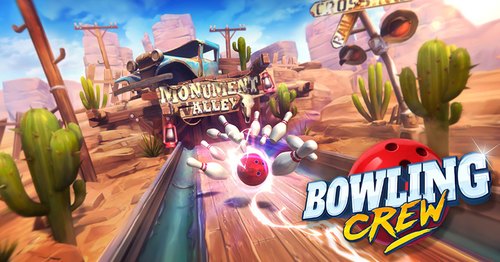 Compared to high-intensity competitive games, Bowling Crew is much more casual and easy to play. Players only need one finger to click and slide. Choose the position and angle, and control the timing and direction of rotation. I was impressed by two interesting design choices in the game. One is that different levels have different themes. In addition to the surrounding decorations and environmental sound effects, the "bowling alleys"have also been changed and even have different shapes. The second is that there are plenty of different bowling balls for players to choose from, each of which has different skins, colors, and has different attributes and usage scenarios. Players will get a different feel with each match they play and will be curious to see what the next environment will look like. The last thing to mention is how the game is a 1v1 online match. After the players match their opponents, they will play the best of 3 rounds. The player to have the highest score in 2 of those rounds is the winner. So grab your ball and get some strikes!
Soccer Cup 2021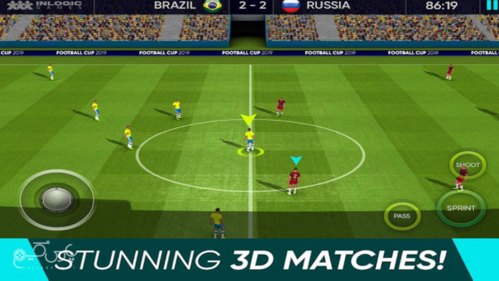 This game has much more of a console game vibe based on the graphics alone compared to some of the other games we have spoken about today. The player models are more realistic and the movements are more natural. The developers cleverly integrated the "training link" of the game into various small challenges. After completing the training, you will enter the most exciting part. Players can choose a team they like to participate in top competitions including the UEFA Champions League and Copa del Rey. The available teams include clubs in the Premier League, La Liga and many other top leagues. The most important thing is that these teams are the same as their real life counterparts. For example, you can choose La Liga giants Barcelona. In this version, Messi has not left the team yet. Touching on the game mechanics, there are two sets of button prompts based on if you are attacking or defending. According to my personal experience, passing accuracy is more difficult to control and easy to be intercepted. It seems much more beneficial to hold the ball with a team member and have them sprint towards the goal.
Tennis Clash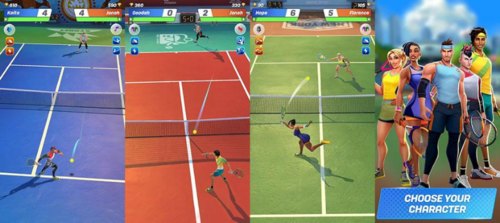 A vertical screen tennis mobile game developed by Wildlife Studios. This may be the best tennis mobile game I have ever played. The graphics are bright and colorful, the game runs smoothly and it's easy to control. It is hard to imagine that players can control this complex sport with just one finger. Players only need to tap and swipe the screen with their fingers, but different players have their own special controls making them stand out. During the rally, players must use precise control to ensure their shots are effective. Most beginners will lose points by using too much power in their shots, resulting in a large number of unforced errors. Players with a decent knowledge of Tennis will have a slight advantage over those that don't. This knowledge will definitely help you make accurate predictions, play your own tactics, mobilize your opponents to run around the court, and finally win the game. But for an online game, these qualities alone are not enough to win the championship. To do well, you must first sharpen your tools. Using a Racket with the best frame, strings and grip will make you even more powerful.